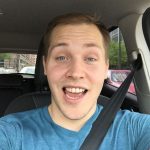 Howdy! I'm Ron Farber-Newman, and I'm the guy behind Farbermade.
I've always enjoyed making "stuff", both with my hands and with a computer trackpad as a digital artist. As a wee lad, I frequently entertained myself by making things out of mud and sticks, and years later when we got our first computer, I started dabbling with the likes of Photoshop. It was only fitting that some day the two be combined as I got into woodworking and used a computer to create various laser crafts.
My start into woodworking and laser crafts, was, like many great things in life, born out of necessity. My husband and I were engaged at the time and had decided on a rustic theme for our wedding. We also wanted a lot of the decorations and accent pieces to be personalized. One of our good friends who is a very talented graphic designer had created an awesome logo and branding experience for our wedding and we loved it so much, we basically wanted to put it everywhere! But searching for shops that provided the exact level of customization we were looking for proved difficult – they were either nonexistent, or, prohibitively expensive due to huge minimum order requirements. I decided I would try to do it myself!
I took a class on laser cutting and quickly fell in love with all the possibilities. After getting my feet wet, I was hooked, and I started making all sorts of things for the wedding – some that we never had planned originally! It was a lot of work, but our guests loved all the personal details!
After the dust settled following our wedding, I realized there was an opportunity to serve people in this space that are looking for the same level of customization as we were then, and hopefully at a fair price.
But this site isn't only about wedding decorations! It's a way for me to scratch my creative itch across the woodworking spectrum and make and sell other things I think up too. If you end up buying something from me, I hope you love it as much as I loved creating it.
Thanks for stopping by!
Ron